Read this many many years ago, and loved the way it turned so many tropes upside down.
Princess! Dragon! Knight! Wizard!
Mix and match and come up with a rollicking story.
Now I found out that Mark Reads has, uh, read the whole Enchanted Forest set.
It is hilarious how often Mark says, Why have I never found this book before! It's great!
Premise: Princess Cimorene enjoys learning new stuff. Her conventional parents keep stopping her and sending away her tutors. When Cimorene finds out that she's going to get married – and her parents are sure she's going to be so happy – she runs away. And becomes a dragon's princess who does not want to be rescued, because she's learning Latin and magic and cataloguing some really interesting treasure. Oh, and she can bake Cherries Jubilee in dragon sized portions.
Then the real adventures start.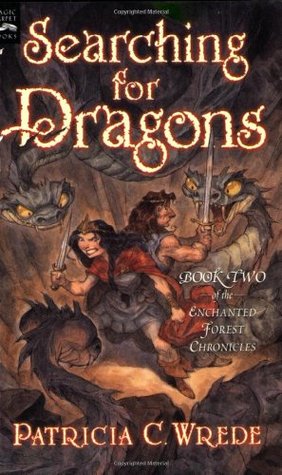 Searching for Dragons
Premise: King Mendabar of the Enchanted Forest is supposed to find a princess to marry, but they all seem so silly. When someone starts stealing the magic form the Enchanted Forest, it seems like a good excuse to not get married. King Mendabar heads off the dragon country to find out information, hooks up with Cimorene, and the adventure is on.
Calling on Dragons
Morwen, a witch who showed up in previous books, is being pestered by someone who wants all witches to fit the stereotype.
Morwen and her nine not-black cats: None of this nonsense, please. And who has kidnapped the King of the Dragons? Morwen, Cimorene, and friends have to do something about that.
 Talking to Dragons
Always be polite to dragons.
Daystar isn't quite sure how his Mom Cimorene knows all this stuff, but he listens and learns.
When a wizard shows up & Cimorene melts him, its time for Daystar to go off on a Quest. This is the most traditional book in the series, but it still has some surprise twists.