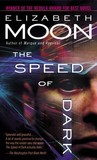 This book was different. There were 2 love triangles, and you might not even notice!
Um. Also, the story takes place in the future, and the main character is autistic. Lou is required to see a therapist who doesn't like him, and he fences – rapier, epee, and dagger.
Lou work with for a mega-company in a small group of autistic people who all do pattern analysis. Their supervisor likes them, the new boss can't stand them. Cops in this story are largely nice people.
As compared with "The Curious Incident of the Dog in the Night" about an autistic 15 year old – Lou is more rounded person, less violent, more stable. The story itself is much better.