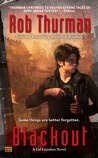 Reread. Binge-reading the series over the weekend.
Possibly my favorite book in the series.
Cal wakes up with amnesia, so he wonders why (The Series-Reader knows why!) he's got lots of guns and multiple ID. Happily, he's still snarky and does some marvelous fun things even without knowing who he is. Then his memory starts coming back, and the book get even more plot-twisty.
Also, amnesia-Cal sees to have his brain kicked into high gear. Without Niko to rely on, Cal seems really good at figuring things out.